Dr. Jennifer Loh can diagnose and treat your cataracts. A cataract is a clouding of the natural lens that causes blurred vision.  They are usually a natural part of aging but can be corrected with surgery.  Eventually the cataract becomes larger and can cause glare, blurred and reduced vision, which cannot be corrected with glasses or contact lenses.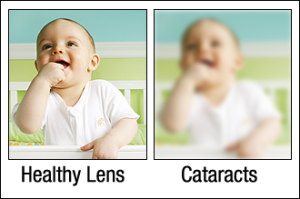 Cataracts can be treated using visual aids, such as glasses, or through surgery.
Dr. Loh performs cataract surgery and can help you achieve your vision goals.  She will spend time with you to help determine which technologies and options are best for the health your eye. Dr. Loh is experienced at advanced technologies in cataract surgery including the newest advancements in femtosecond laser cataract surgery and specialty intraocular lenses, such as those that correct astigmatism (toric lenses) and those that can reduce your need for glasses (multifocal and accommodating lenses).
To learn more about the Femtosecond Laser Technology that Dr. Loh provides as an option to her cataract patients, please see the video below about the LENSAR system.
If you are suffering from blurry vision, or have been diagnosed with a cataract, please call us our office to schedule an evaluation with Dr. Loh at 786-558-8542.