Like many of the patients we see at Loh Ophthalmology Associates, Karina remembers not being able to see the board in her seventh-grade classroom and getting her first pair of glasses in junior high.  'I had to wear glasses for all these big moments in high school like learning how to drive.'
Karina had severe dry eyes so she only wore contact lenses here and there as they would dry her eyes out more; she would only wear them to travel, or for special events, to do physical activities like working out. For the day-to-day things like driving, she wore glasses.
Karina's fiancé is a Pgy3 resident, and she met Dr. Loh as Dr. Loh works with the Larkin Ophthalmology residency program and helps them in training for surgeries.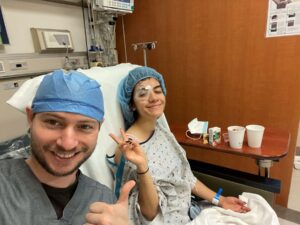 Until she saw Dr. Loh, Karina had really only heard about Lasik and PRK. When she had her evaluation with Dr. Loh, she went through all of the normal testing that refractive surgery evaluations for LASIK and all other options go through. Karina's left eye was -4 and her right eye was -3.75.
Dr. Loh shared information about the EVO ICL.  It reminded Karina she had seen Joe Jonas post about the ICL but never knew what it was until now – "until Dr. Loh told me I was a great candidate because dryness was such an issue for me; after she explained it to me, I was super excited!"
Karina also shared that when she eventually needs cataract surgery in several decades the ICL will not affect that and it sounded very safe painless and quick. Karina decided she would go for the ICL, and she agreed to share the day of her ICL procedure with our patients.
Day of ICL Procedure (in Karina's words):
"I was really excited and was not nervous at all. Dr. Loh saw me for a couple of pre ops before and answered all the questions leading up to it. Honestly, I was super excited, and I knew that this was something that would change my quality day to day making things so much easier.
The hardest thing was no breakfast! It all went by pretty quickly.  They gave me just a mild sedative and numbing drops. I remember some music in the background of the OR and some bright lights.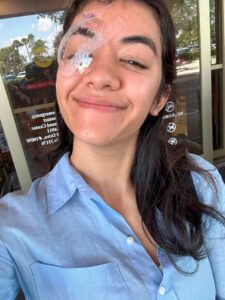 It was pretty much a quick painless procedure, and I did not feel anything at all.  They placed a clear patch on my left eye when it was done, and then Dr. Loh did my right eye the next day. All in all, it was really relaxing, no pain or discomfort, I started to see results within a day or two and was already seeing 20/20 the next day!  I had a post op the next week to check on everything. Felt really taken care of the whole time and Dr. Loh was checking in with me. I had one month of RX eye drops – some antibiotic drops to make sure all was healing.
Dr Loh is so compassionate, and I felt like she cared about me not just like a patient, she wanted me to be okay the whole process; she wasn't just here to be an amazing surgeon, it was her bedside manner.
Eyes are a really important part of the body, and it could be really scary, but she made me feel so confident and she checked in, took such good care of me the whole time and answered any questions I had.
The reason I am so happy with my ICL was the immediacy with the quality of vision.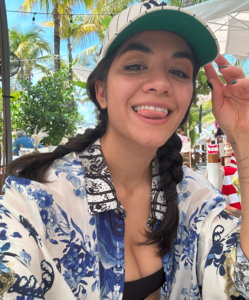 Honestly the results were incredible, and the downtime was nothing, it was a great fit for me. I could tell Dr. Loh was very excited about how innovative it was, and I told myself, if she trusts it, I do.  I saw 20/15 when fully healed. The entire procedure was painless but also the after-care period was smooth and manageable.  The quality of vision and the results I got with ICL are phenomenal and exceeded my expectations. I want to tell anyone with dry eye – this has been a really great life improvement. Being able to travel without having to worry about packing contacts and solution. The fact I had such dry eyes and now have these kinds of results should speak volumes!"
If you would like to have an evaluation and see what your options are for getting out of contacts or glasses, please contact us at info@jenniferlohmd.com or call us at 786-558-8542. If you would like to read more about the ICL, please visit our ICL page!